Tree Wall Decals and More Affordable Ideas for a Nature-Themed Kids' Room
Posted by The Decal Guru on 9th Feb 2015
Are your kids always playing in the woods—building tree forts and catching frogs? Nourish their love of the outdoors with these affordable ideas for a nature-themed kids' room. Most of these items run less than $100.
Tree wall decals
Wall decals are a simple DIY way to bring the outdoors inside. Choose from a wide variety, such as these adorable owls in birch trees:
These cheerful spring blossoms are perfect for the nursery:
Go for something more classic:
Or, instead of trees, tuck your child in every night under the stars:
View our large selection of tree wall decals to find the perfect one for your young nature lover. Here are a bunch of other great wall decals for kids.
Rugs, bedding, and more from the Forest Friends collection
The Forest Friends collection from Sweet Jojo Designs includes bedding, rugs, lampshades, and more kids' room accessories featuring a raccoon, an owl, and other friendly forest creatures. They are made of soft fabrics and available online at a great price from various stores.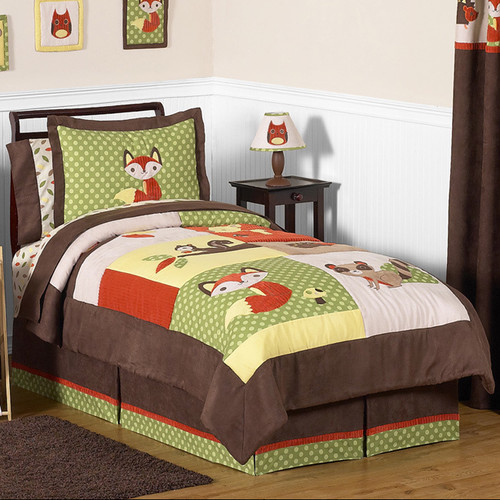 Contemporary Comforters And Comforter Sets
P'kolino clothes trees
P'kolino clothes trees look like real trees. They come in different colors—orange for fall, white for winter, green and light brown for any season—and have plenty of "branches" for kids to hang their clothes.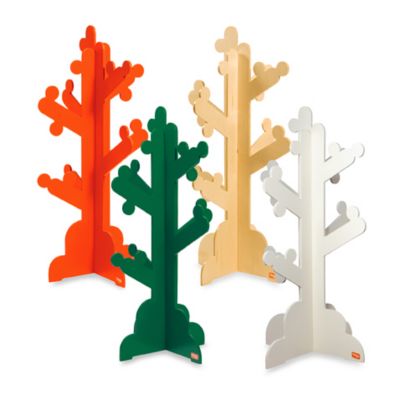 Forest-themed stencils
To turn decorating the kids' room into a fun family art project, try stenciling! This Forest Friends scene requires a moderate amount of stenciling experience to create, but results in a fun scene that your kids will love for many years.
Kid-safe plants
Plants are great additions to kids' rooms: they keep children healthy by improving air quality, and they even absorb noise. Rubber plants are great because they aren't too fussy. If you have a green thumb, you can train ivy on a topiary in the shape of a tree!
Image by Mokkie [CC BY-SA 3.0], via Wikimedia Commons
Ladybug bean bag chair
Bring your child the luck of the ladybug every day with this friendly life-sized critter: the Fun Bun Bean Bag Chair.
Tree bookcase
Full-sized tree bookcases can run several hundred dollars, but this small one from babyletto is perfect for pint-sized bookworms to store their treasures.
Animal lamps
Light up the room with these animal lamps from Lolli Living.
Tree throw pillows
Toss a few tree pillows on the bed or in the play corner. Walmart has a huge collection of nature-themed pillows.
comments powered by

Disqus